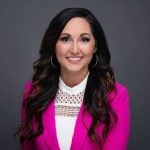 Angie Reynolds
Home Sales Consultant
A little about me
Angie Reynolds was born and raised in Lake Wales and now resides in Lakeland. She joined the MEGG Homes team in 2015, where prior to that was a teacher for 12 years with Polk County School Board.
She is the Home Sales Consultant and enjoys helping buyers find their perfect home. Her day consists of helping people get pre-qualified for loans, assisting buyers through the sales process and showing properties to buyers.
She attended the University of South Florida and graduated with a B.A in Psychology. In her spare time, Angie enjoys spending time with her family, decorating her home, going to the beach and her Peloton. Angie and her husband, Ryan, have two daughters, Leighton and Harper, as well as two dogs, Lily and Ginger.